ABC
The ABC TV app is ideal for viewers who want to keep up with their favorite ABC network shows.
After you download this app, you can watch the most recent episodes of the biggest shows on ABC along with classics for free. This includes Dancing With the Stars, Modern Family, and Black-ish that have recently aired on the ABC proper network.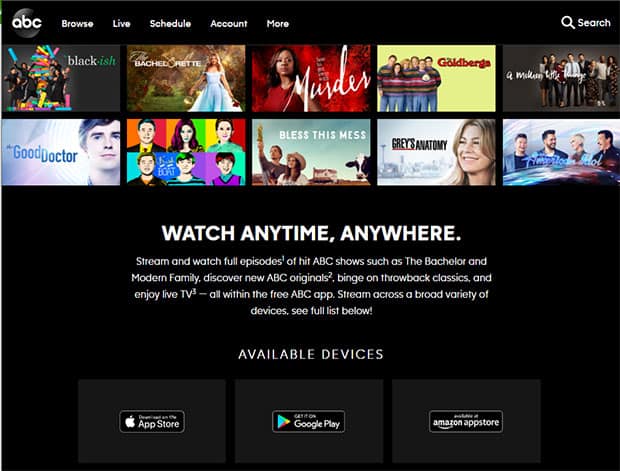 Some content does require a log in through a TV provider to watch, but these shows are clearly marked with a key. Despite this, there are hours of free content that you can enjoy.
NBC
NBC was once considered the home of ?Must See TV,? but it is also a great place for free to watch TV shows.
Like the other TV apps, the NBC TV app works with free users, with new episodes unlocked eight days after they air on the channel for free streaming. This means that you can catch up with Saturday Night Live, Will & Grace, and This is US along with other current shows and classic series.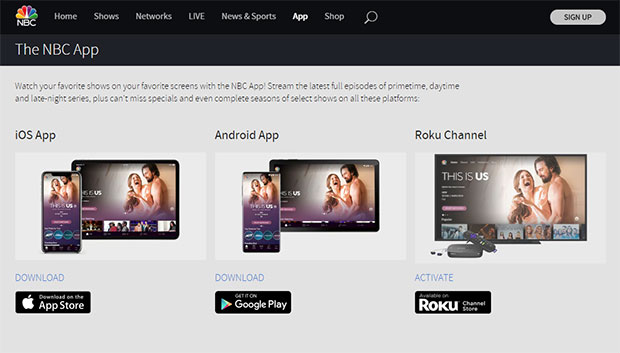 Some content remains locked behind a key icon, but the NBC app allows users who?ve registered to watch three locked episodes of any show for free for up to a month without needing to log in.
The NBC app is compatible with Android, iOS, Amazon Fire, Android TV, Apple TV, Xbox 360, Xbox One, Vizio TVs, Amazon Alexa Skill, and Samsung Smart TVs.
The CW
Whether you can?t miss the latest episode in the Arrow-verse, need to gather every piece of the Riverdale puzzle or hunt with the Winchesters on Supernatural, you can catch up using the CW streaming app for free. The available episodes vary depending on the last air date on the network. So, if you?re planning a Riverdale binge session, you will need to either wait for reruns or sign up for Netflix.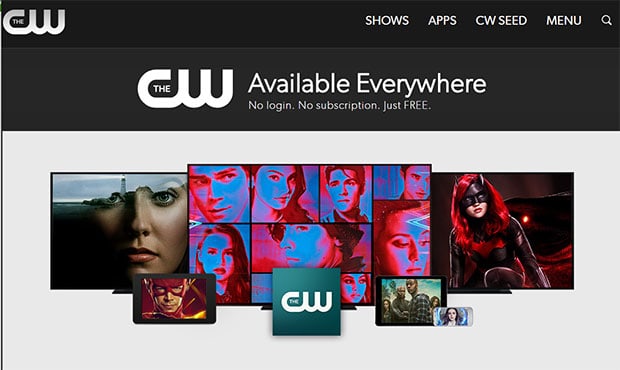 One area where CW stands apart from many other TV apps is how quickly the network puts the content on to the app platform. Many apps make you wait up to a week for the latest episodes, but the CW typically puts the latest episodes on the app platform around 11 pm PST on the nights they air.
The CW app is available on Android, AirPlay, Amazon Fire TV, Apple TV, iOS, Windows 8, Google Chromecast, Roku, Xbox One, and Xbox 360.
PBS & PBS Kids
The downside of trying to streamline your budget as a parent is that you may worry about missing out on valuable kid's content. However, you need not worry as the PBS Kids app allows you a free 24/7 feed without a need for login or subscription.
Every Friday, the app is updated with new safe, educational programming.Whether you?re using a streaming stick or mobile device, you can enjoy live programming, on demand streaming, and even guides to highlight the learning goals and intended age group of each show.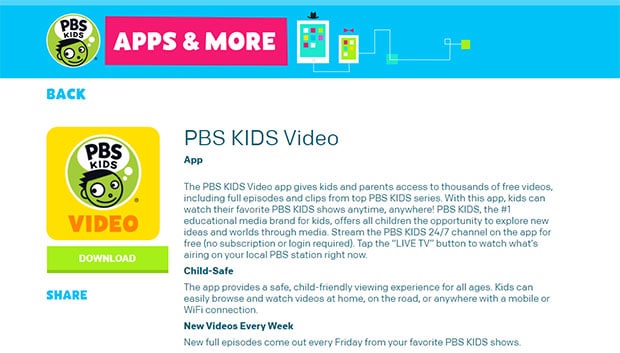 PBS has an app for the adults as well so you can enjoy a bit more mature content.
The PBS apps are compatible with Android, iOS, Windows 10, Windows Phone, Nook, Roku, and Amazon Fire.
Cartoon Network
Another great family friendly network that offers free streaming TV is Cartoon Network. The Cartoon Network offers an impressive selection of free programming. You can watch full episodes of great shows, including Adventure Time, Uncle Grandpa, and Steven Universe, without a need to log in.
In addition to a massive amount of episodes, there is a wealth of app exclusive content and clips. Since the Cartoon Network is locked in the cable paywall, this is a generous gift for all CN lovers.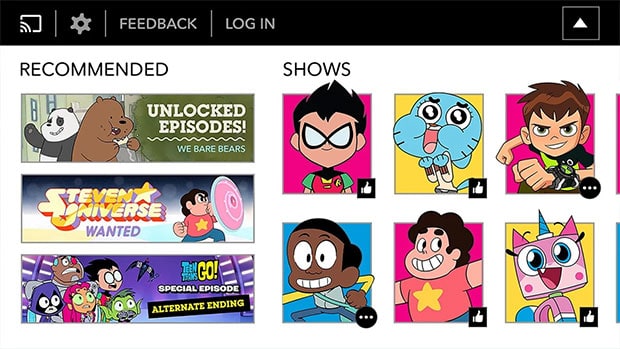 Like many of the other TV apps, locked content is denoted by a key icon, but you?re likely to find lots of content to enjoy. So, your kids don?t need to miss out on their favorite cartoons, just because you want to cut your costs.
The Cartoon Network app is available for Android. iOS, Xbox One, Apple TV, Amazon, and Roku.
Crunchyroll
Crunchyroll provides a free service for Anime fans. You can stream episodes from practically the whole Crunchyroll catalog in the free mode, supported by ads.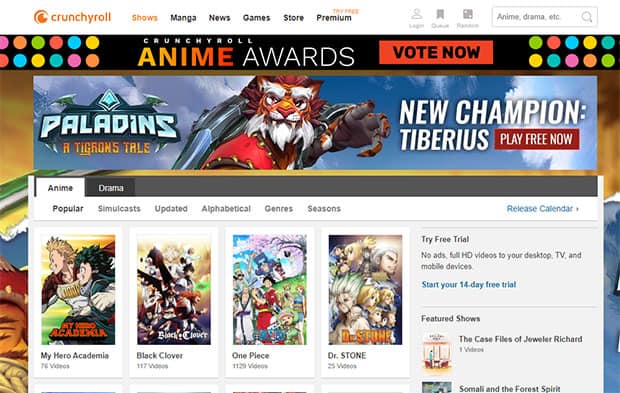 This means that you can watch free episodes of Dragon Ball Super,
Christian anime
and other anime favorites. Or find new favorites in the currently airing shows. This is a fantastic find for anime fans who remember the days of needing to hunt for expensive DVDs.
The Crunchyroll app is supported for Chromecast, Playstation 4, Playstation 3, Xbox One, Xbox 360, Wii U, Playstation Vita, Apple TV, Roku, Windows Phone, Android, and iOS.
Pluto TV
Pluto TV offers free live TV streaming that can fill the TV void in your life. The platform provides more than a hundred channels of live television, music, and movies with the channels grouped into categories.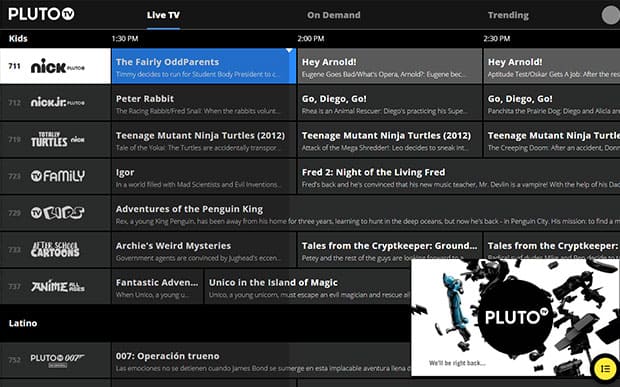 This means that you can browse Sports, Entertainment, or News with each of these sections packed with high quality channels. Some of the channels you may recognize from your cable package, and a few may be new to you. For example, there is an MSNBC feed. However, where Pluto TV really stands out is the choice of unusual channels, such as Slow TV, a feed of things moving peacefully, which can help you to wind down after a busy day.
Pluto TV is a great choice for those who love television but don?t have particular must see shows. The service operates on Samsung TVs, Sony Smart TVs, Vizio TVs, web browsers, Chromecast, Apple TV, Amazon Fire, and Roku.
NewsON
One of the downsides of canceling your cable or satellite television package is that you can lose your access to local news.
If there is a local event or even a weather emergency, these local channels provide an invaluable resource.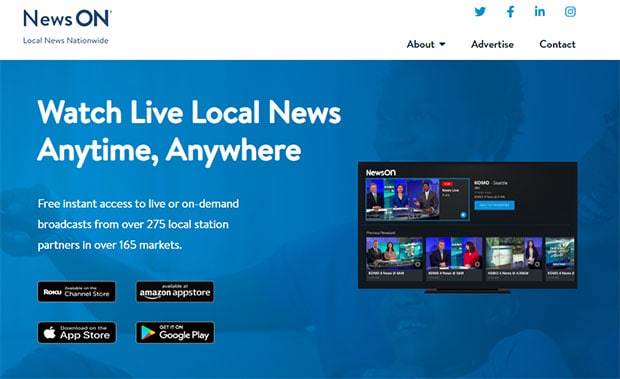 NewsON can bridge this gap, allowing you to choose live newscasts from all across the country without needing to pay a dime.
You can search for news services in your area or even explore what is happening in other areas of the world. This can be an interesting way to increase your general knowledge or discover the next place you want to visit with the money you?ve saved on your cable bill.
Crackle
This is an on demand service that streams like Netflix, but with no pesky subscription charges or fees.
The Crackle library includes lots of finished television shows and many movies. The content rotates out each month, and Crackle also produces its own original content.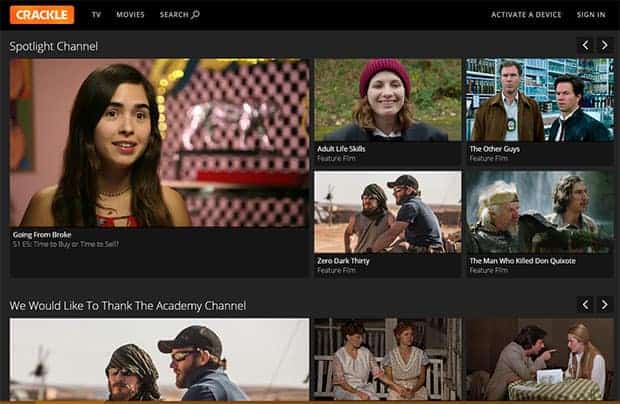 There are some great original series, including StartUp and Snatch, which is the type of edgy content that should address your HBO void. If you enjoy watching reruns of older shows like Seinfeld and Community, Crackle could be what you?re looking for.
Crackle is supported for Google Chromecast, Apple TV, Amazon Fire TV, Roku, Android, and iOS. There are also a number of smart TVs that can stream Crackle.
Tubi TV
This is similar to Crackle, but it doesn?t have original content. The Tubi TV catalog contains more than 7,000 TV shows and movies, so you?re sure to always find something to watch.
The library is predominantly reality TV shows and old sitcoms that provide access to some real binge worthy content such as The FBI Files and Dog the Bounty Hunter.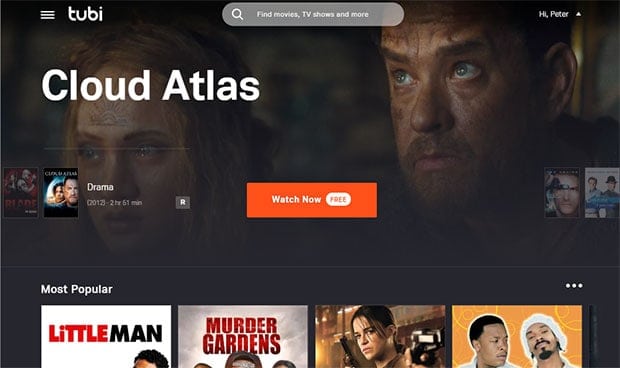 The best feature of Tubi TV is its movie section. There are some real blockbuster titles, high quality documentaries, and some great romances. You may need to dig around a little to find the perfect movie for that lazy Sunday afternoon or a family movie night.
Tubi TV can be streamed with Android, iOS, Xbox, Apple TV, Roku, Samsung Smart TVs, Playstation, Amazon Fire TV, Sony Smart TVs, and web browsers.
Nosey
If daytime TV is your guilty pleasure, then Nosey is the perfect streaming service for you.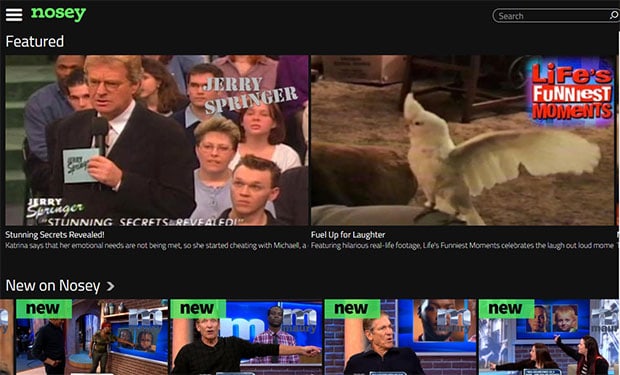 Nosey has compiled a compilation of the best daytime TV to create an easy to use streaming service. From the cheating spouses on Jerry Springer, to the drama of Cheaters and Paternity Court. There are even some game shows such as Press Your Luck and Family Feud. Nosey allows you to enjoy all that daytime gold without needing an antenna or cable box.
Nosey is supported on iOS, Apple TV, Roku, and Android devices.
Popcornflix
Popcornflix is a free streaming service that has a ton of free movies and TV shows, available on aps on iOS, Android, Apple TV, Roku, Fire TV, Xbox and more.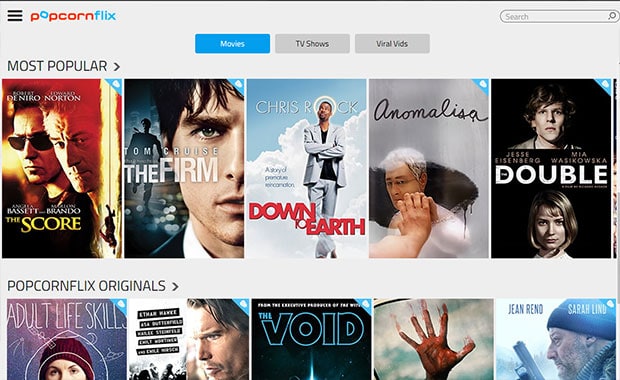 The service has everything from classic 80s and 90s children's shows to relatively recent movies in a variety of genres, including foreign films and documentaries.
Redbox Free Live TV
In addition to their DVD rental kiosks and on demand streaming movies,
Redbox
recently announced that they would be releasing an ad-supported free live tv streaming service. The service is now available on the Redbox website, and via the Redbox app.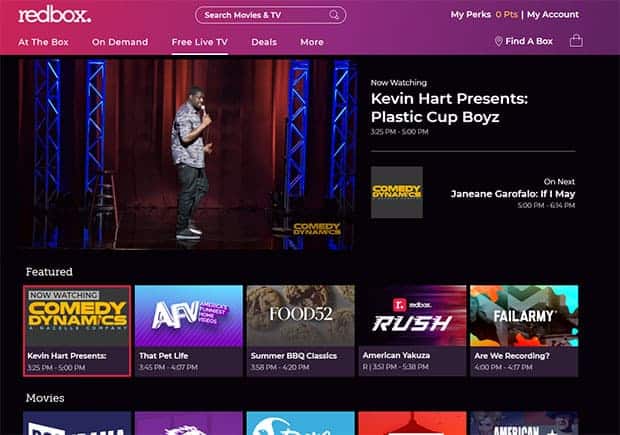 The service has about 30 live streaming channels including TMC, USA Today, FailArmy and several Redbox exclusive channels. The channels and content show up in categories like "Movies", "TV", "Entertainment", "News" and "Kids".
To access the streaming service you can go to the Redbox website and click on the "Free Live TV" link at the top, or view it through one of their apps.